"Her passion is distracting; she clearly feels it. And it's infectious – it isn't long before you're asking yourself why you never learned to play an instrument like that." – Copenhagen Online Post, Roskilde Festival 2015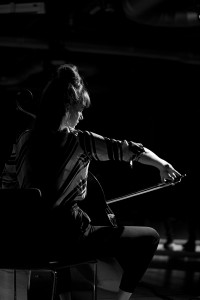 – Winner of the Round Glass Music Award 2018 (US/IN)
– Receiver of The Danish Arts Foundation's 'The Young Artistic Elite' scholarship with KOTTOS 2019 (DK)
– Winner of the Danish Radio P2's Listeners' Prize 2017 with KOTTOS Quartet (DK)
– Receiver of The Danish Arts Foundation's 'Den Unge Elite' scholarship with We like We 2017 (DK)
– ZMR Award nominee 2017 (US)
 Josefine Opsahl (b 1992) unites her classical musical roots with a liberating openness to her instrument, sounds, genre and the use of electronics which shows in her own compositions as well as in her two groundbreaking ensembles, We like We and KOTTOS, with whom she is touring all over the world, latest around China and accompanying HM The Queen of Denmark to Argentina alongside the Royal Danish Ballet.
Her musical skills and creative approach has positioned her as one of the leading forces on the international scene. As an icon of a conscious, contemporary musician she writes, curates, improvises and performs equally and extends her musical worlds through collaborations with other artists, curators, festivals and spaces beyond the grid of genres and expressions.
This has resulted in commissions for museums, galleries, festivals such as the Danish Golden Age Exhibition at the National Gallery of Denmark, the UTZON100 celebration, 'Time is Local' a 12-hour multichannel installational performance for Thorvaldsens Museum and an opera in collaboration with We like We, Nordic Opera and Cph Opera Festival. She is currently working on a piece for 10 celli for CLICK Festival, May 2020.
Josefine's works reflect her own artistic search towards understanding the role of art in our society and the tension between tradition and renewal, expertise and intuition. As a mirror of this her electroacoustic works build on and combine a classical musical tradition and sound aesthetic with modern mediums of expression. Her 'Sonic Lithographies' reflects our electrified modern world by reclaiming electronically damaged sounds back to the simpel expression frame of acoustic instruments.
Her works has been performed throughout Europa, in China, Argentina and Brazil and her album releases have received rave reviews and awards, recently the Round Glass Music Award 2018 (US) and the Danish Radio P2's Listeners Prize.
Josefine Opsahl has given lectures at The Royal Danish Academy of Music and KADK, The Royal Danish Academy of Fine Arts. She studied classical and contemporary cello playing at the Royal Danish Academy of Music (DK) and Northwestern University (IL, USA) and is a two times receiver of The Danish Arts Foundation's 'The Young Artistic Elite' Scholarship.