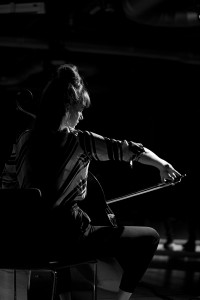 "Her passion is distracting; she clearly feels it. And it's infectious – it isn't long before you're asking yourself why you never learned to play an instrument like that." - Copenhagen Online Post, Roskilde Festival 2015
Josefine Opsahl (DK) (b. 1992) started playing the violin at a very young age as a pupil of the Suzuki Method. During her early teens she studied and performed on a variety of instruments including percussion and accordion but she quickly developed a close bond with the cello as her primary instrument. In 2017 she completed her studies at the Royal Danish Academy of Music (DK) and Northwestern University (IL, USA). By then she had already made a name for herself nationally as well as abroad as an authority of contemporary music performance with a radical and innovative approach to cello playing within the classical genre and beyond.
She has given numerous world premieres of works often dedicated to her by outstanding composers and she is recognized for her exceptional live electro-acustic performances. Inspired by her many collaborations with avantgarde artists and performers it was inevitable that she would take up composition herself resulting in a range of works for solo cello with electronics as well as music for smaller ensembles, theatre and sound installations. Her role as a creator of advanced musical scores is also fundamental in her acclaimed ensembles, the sound collective We like We and the progressive chamber quartet KOTTOS – both pioneer ensembles that challenges the dogmas of classical music.