Past Present Future (2023) for solo cello and electronics.
Listen to Past Present Future – single out April 7th 2023
"Josefine Opsahl hat created something fantastic. A truly powerful track that has teeth and wants to mark the world. You want to hear the piece over and over again; hum and swing along in the midst of the multitude of thoughts in the head of (J.T. Lundbye)'s young man's head"
World premiere at The Metropolitan Museum of Art in New York (NY, US) in collaboration with AFSMK – American Friends of SMK and SMK The National Gallery of Denmark on April 14th 2023. American cellist Clarice Jensen will perform the solo cello part.
Single artwork by Josefine Opsahl, 2023
Josefine Opsahl's 'Past Present Future' for solo cello and electronics explores the timeless and inevitable theme of humankind's dialogue, resonance and interference with its surroundings and with nature.
The work draws inspiration from 'Past, Present, Future: Young Man Sitting under a Tree on a Rock with His Hands in Front of His Face' (1844) by Danish Painter Johan Thomas Lundbye (image below).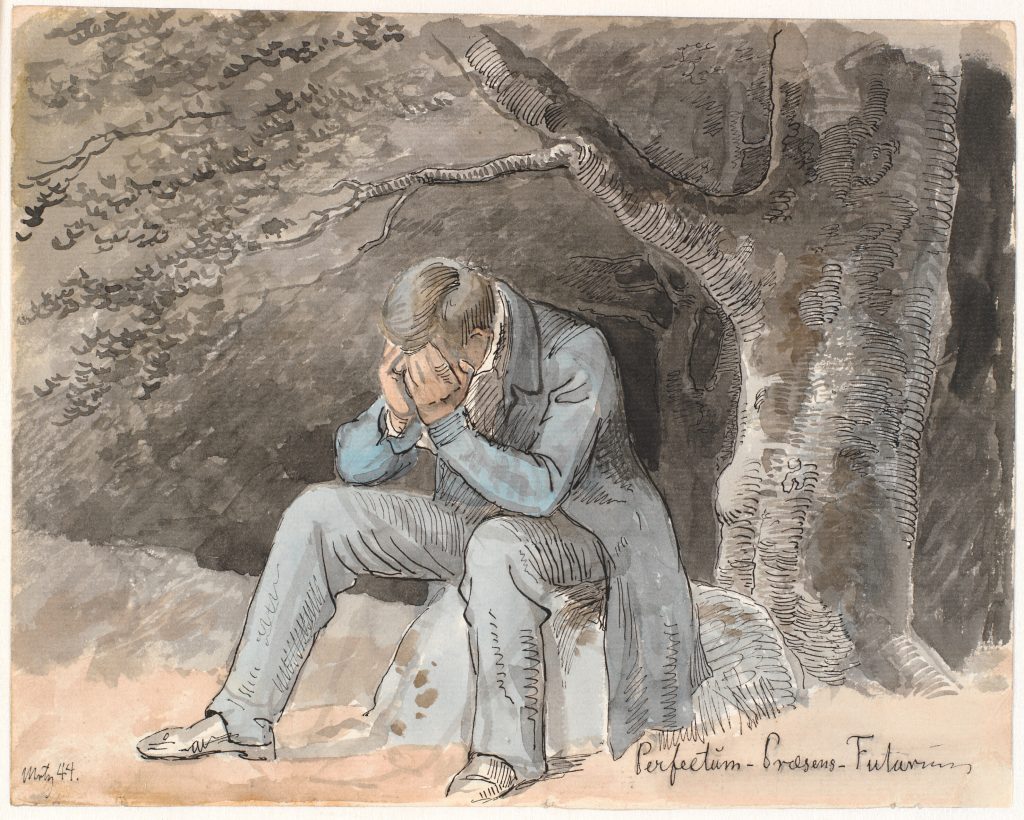 The well-dressed young man portrayed in Lundbye's 'Past, Present, Future'; sitting elegantly but resignedly on a rock in nature is – as the title also suggests – a timeless image of Man through the ages. Cultivated, stately, well educated – and yet despairing and lonesome. Man hides his face in his hands because he is blessed and cursed with the ability to think, feel, empathize, act and react according to his analysis of the world, his values and ability to envision the future. By virtue of these qualities, Man has a distinctive ability and thereby position in his surrounding environment – and thus an accompanying responsibility.
In many ways humankind stands in the middle of turbulent and changeable times where Man not only has an opportunity, but a responsibility to revise his role in and influence on nature and the shaping of the future. 
Opsahl's Past Present Future takes the listener on a musical journey through phenomena in Nordic nature, its imprint on mood, minds and communities. Diving into the strokes, the colors and the mood of Lundbye's drawing, Opsahl brings life to the portrayed young man's despairing posture by letting the hidden yet powerful existential conflicts and forces of light and darkness, tenderness and cold, strength and powerlessness, connectedness and isolation roar. The work unfolds in the field of tension between solo cello and electronics, between sound aesthetics and genres, and reflects a dialogue and a gradual unification between the work's two seemingly divergent sound cultures and expressive media: the raw natural materials of the cello and the artificially generated sound of electronics.
The work unfolds as an obscure and refined pas de deux between the two expressions, between nature and culture – and seeks in this intersection to be a manifesto and a hymn of praise for diversity, responsiveness, trust, integration and hope towards that humankind in mutual respect and together with nature can and will succeed in creating a shared bright future. 
Past Present Future is commissioned by and dedicated to American Contemporary Music Ensemble on the initiative by AFSMK (American Friends of SMK/The National Gallery of Denmark on the occasion of the exhibition: Beyond the Light: Identity and Place in Nineteenth-Century Danish Art, organized by The Metropolitan Museum of Art and the J. Getty Museum, in collaboration with SMK – The National Gallery of Denmark.
The composition is written with support from Koda Culture.